Competitions
Peace Poster Competition - Lion Frances Bond
105SC District Entry Winner to go forward to the MD Competition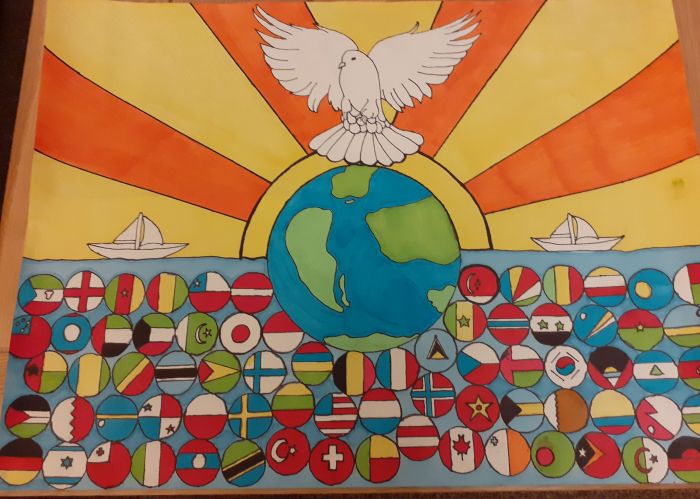 Hadrian (12)
All the countries hold up the earth, show that we work in unity and are better in togetherness.
Burgate School, Ringwood & Fordingbridge Lions Club
Young Ambassador - Lion Yorke Tuke
Supported by the Lions Club of Jersey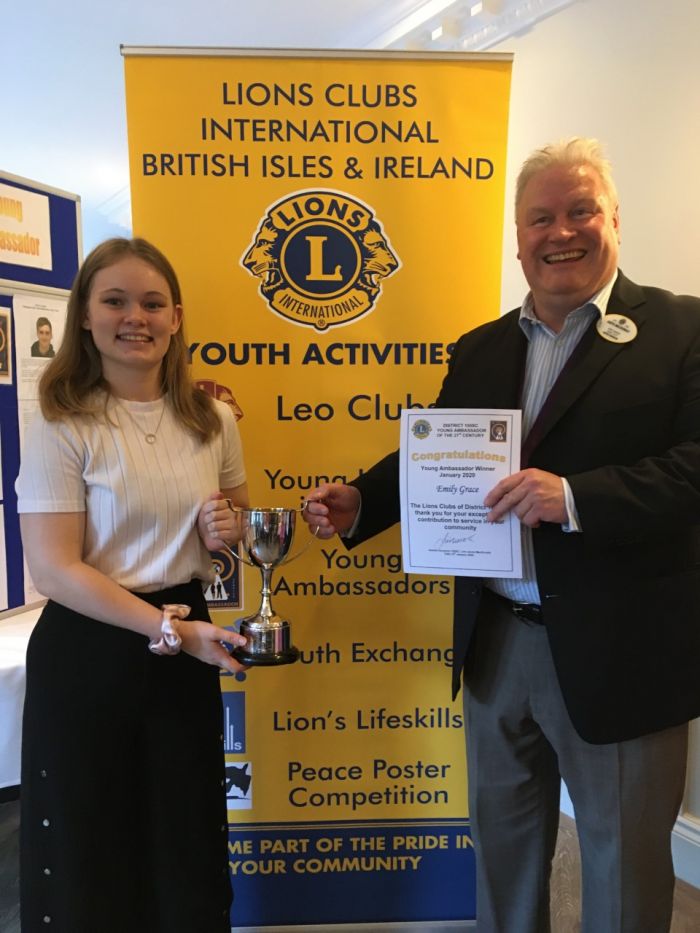 Congratulations to Emily Grace on becoming our Young Ambassador for 2020. The District Finals were held in Bournemouth in January. The Judges were unanimous in their decision to recommend Emily to go forward to the Multiple District Finals to be held in Dudley in February. She goes with our full support and best wishes.
Emily, 17, is in her last year at Jersey College for girls studying for A levels in Biology, Chemistry and History. She has applied to several colleges to study medicine from next September. She is a very keen dancer, last year gaining Grade 8 in ballet. She has since added tap dancing as a further skill and is preparing to take Grade 3 as the next step. She is a regular swimmer, for which she has a teaching qualification, and has taken part in the Lions Swimarathon, a major fundraising event. A further hobby/interest is playing the clarinet (grade 6), which has lead to participation in the school orchestra. Within the local community, she has worked with the JCP after school club as part of her D of E silver, has been a valued volunteer with Radio Lions at the hospital, and also volunteered with St John Ambulance. Her most challenging work has been with the International Women's Academy with a trip to Ghana last year. She took along her own sustainable project, for the community to continue, based on making reusable sanitary pads, ensuring that the women were able to use a clean product rather than the old cloths they had used before. She took along and gave out 100 hand-made pads for samples and prototypes and the group also set up a library area and started first aid instruction. She continues to fundraise with IWA as, for obvious reasons, this community in Africa holds a very special place in her heart. We are very pleased to celebrate, through Emily, the remarkable community service being carried out by so many young people, and are delighted that she has represented the Lions Club of Jersey.
Nixon Community Shield
We have a new competition, the "Nixon Community Shield". This is for Region and Zone Chairs to suggest a Club who they believe would be a worthy recipient. Please note and consider who you would suggest for next year.
In the meantime the winner of this new award has been identified and will be announced and presented at a suitable time and place in the future.