Region and Zone Reports
Region 1 Chair – Lion Dave Rose
Unfortunately due to my sons having lots of hospital appointments plus time in hospital with Seizures I was unable to dedicate as much time to the Lions as I wish. Fingers crossed things are about to level out.
So far I have had a lot of contact with two Zone Chairs. Also been to two Zone meetings with more to come in the near future. Both meeting have been well attended with lots of input from members.
I have been to a club membership meeting passed on some helpful information to recruit new members.
Also have visited one club in the Region with many more to follow in the near future.
Region 2 – Lion Tony Bamberger
Total membership of the Region currently stands at 238, compared with the recent figure this is plus 3 de-spite losing 10 members so overall an encouraging figure, several clubs are hopeful of some new members in the not too distant future. I am happy to report that all clubs in the Region appear to be active and working hard both for deserving causes in their local areas and in giving support to International disasters. All clubs seem to have very different lists of activities and the total range is very impressive from Art shows to Youth activities, I would recommend all members trying a visit to another club, I am sure you would come away with new ideas.
I have now attended Zone meetings in both Zones and have further ones booked in the near future. The meet-ings I have seen were well attended with lots of lively discussion and updates from all clubs.
The orientation mornings that we held last year means that the slides and information is available to others if they would like to use it.
Basingstoke and Loddon Valley have been involved in work with students with learning difficulties in a lo-cal college in working on projects and interviewing skills, this work continues and it is hoped we can look to get involvement from the wider student group. I would be interested in talking to anyone with experience in LEO clubs.
There are no identified decisions required of this convention or issues to escalate from the Zones.
Region 3 – Lion Helena Pudney
We have held Region meetings in August and November 2019 with another to be held in March 2020. They were held with interesting speakers and well attended.
Bracknell Forest Club - despite bad weather had a successful show in July and raised over £2,600 to be distributed to local charities. They are also working hard on their Gambia Project.
Burnham Lions Club – held a very successful Christmas Fayre and Children's Parade in December 2019. Over 2,000 people attended the event with many local charities raising money from their stalls. The club celebrates their 20th Anniversary this year.
Henley on Thames Club – have assisted individuals in distress and worked with physically and mentally handicapped folk. They will be holding their Swimarathon in April 2020.
Maidenhead Club - have delivered 350 food parcels to local residents in need. Their Lions Train makes many visits to various venues. It raises funds and gives children lots of fun.
Reading Club - had a profitable Christmas Sleigh Collection enabling them to provide food vouchers for those in need in the local community. They have also held a successful Prostate awareness campaign.
Windsor Club – had their best ever Horse Ride in September 2019 with over 650 riders taking part to raise money for local charities. They are also having another Prostate Check event in April 2020.
Wokingham Club – had a successful Can-Can appeal for food donations to be packed into parcels and distributed to the needy. They also had an amazing success holding a Woky Comedy Night.
Woodley & Earley Club – have donated a defibrillator for use by Woodley residents based at the Town Hall. Also despite the rain they held a successful Fireworks display in November 2019 and their Human Fruit machine was a great attraction at the Winnersh Fete.
Region 4 – Lion Teresa North
Report for Cabinet meeting March 2020

Nothing to report for this quarter. Attending Poole Charter for DG in April and Visiting Ringwood and Fordingbridge in April.
Membership as at January 2020

Blandford – remains at 12 members
Bournemouth – 20 members – they have 4 new members from Christchurch who joined with them
Southbourne and Boscombe have had a new member bringing their total to 8
Wimborne and Ferndown have a new member but sadly our Secretary passed away so the membership remains at 20
Ringwood and Fordingbridge have 10 members
Poole remains at 20 members
New Milton has added 2 members bringing their total to 27
Wareham have 28 members
Region 5 – Gordon Rhodes
Progress against objectives:
I am working across the Region principally through the two Zone Chairs, Robert and Marsha. Marsha has a particularly good local knowledge of the Isle of Wight clubs.
The chief concern across the Region is the low membership numbers often made worse by having elderly and members not often in the best of health. Despite this there are some excellent hard working Lions Clubs.
The club with the greatest difficulties at the moment is Southampton Solent who have only five members the problem being exasperated by age and health issues. They are planning to close and I arranged to visit them at their last meeting to see what we could do. This meeting was cancelled as they had other commitments. I will, however, try to see them shortly and see if we can come up with a plan to save the club if possible. It may be too late but we can try to discuss the situation at a Zone Meeting being held on 27th. February. I understand that Eastleigh Club have been supportive in the past and they may be able to help.
The Isle of Wight clubs are generally quite low on numbers and a Membership Promotional Event is planned for all the Island clubs on 30th. May. Hopefully this will benefit all the clubs taking part.
Zone Reports
Zone 1A - Not available
Zone 1B - Lion Derek Clarke
I have held 2 Zone Meetings so far this year hosted by different clubs, with the next one scheduled for the end of March. Each meeting has been well attended by 5 of the 6 clubs with lively discussions on a variety of subjects and helpful information being shared between members. I am encouraging all clubs to bring as many of their members to these meetings as I feel that they are useful for new members to meet other clubs and hear what things they do in their clubs. We also welcome different speakers to attend our Zone meetings.
We are currently working on a proposed Zone Social and looking for a Zone Project which encompasses the wide geographic area that is covered by the 6 Zone Clubs.
All my Zone Clubs are actively trying to recruit new members and help is being provided by District Officers where needed.
By the end of the Lionistic year I will have completed all my club visits.
Zone 1C – Sandra Manktelow
Decisions required of Cabinet:
Justification for decisions:
Objectives for the year:
a). To keep membership as a priority (District target to send 5 Lions to new members symposium; each club to aim for 2-3 new members)
b). To facilitate the exchange of ideas about projects, activities and fund raising (District Target to hold one social event for zone members)
c). To promote and encourage unity among clubs (District target to undertake one zone service project)
d). To inform and support clubs about developments and initiatives from District (District targets - to ask District specialists to attend zone/club meeting; to raise profile of Young Ambassador by putting forward one candidate)

Progress against objectives:
1.3 a)
Membership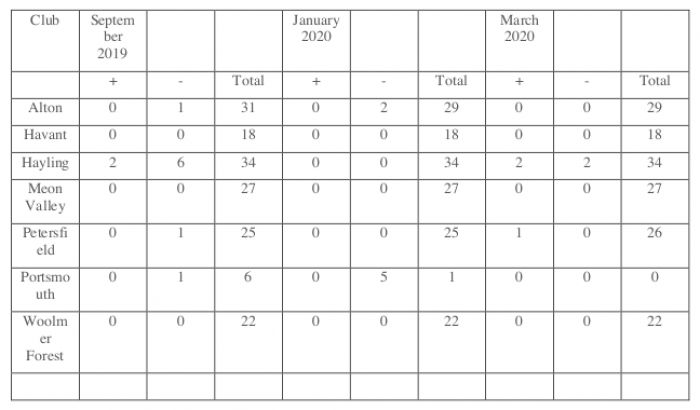 Hayling Island badged up two new members on 9th January
Petersfield had a Lion transfer from Guildford in February
Alton had two guests who want to become Lions
1.3b)
Zone Quiz – Friday 6th March – this had to be cancelled as only two clubs attending!
Clubs given information about canal/sea trips
Discussion at zone meeting on community/welfare – clubs agreed to have list of community/welfare chair so we can pool expertise
1.3c)
Diabetes Awareness Training took place on Saturday 18th January. In attendance – 10 members from Petersfield; 2 from Meon Valley; 1 from Woolmer Forest; John and Judith Goodchild
Petersfield held a 'Know your risk' diabetes day on 15th February – day of Storm Dennis! Had 53 people through the door – 1 green, 16 yellow, 9 orange and 14 red (high risk); others took information.
List of areas covered by each club circulated to all clubs for information
'Litter' theme still being discussed – possibility of competition in local schools/pre-schools
1.3d)
Trustee Training took place on Monday 13th January led by Mike Baker GLT – representatives from clubs – Alton – 6; Havant – 3; Meon Valley – 4; Petersfield – 7; Woolmer Forest – 5. Hayling Island did not attend as had training recently.
Other relevant matters:
Date of next zone meeting Monday 8th June 7.00 for 7.30 at Half Moon Petersfield
Since the last report:
Zone chair visit to Hayling Island 9th January 2020
Zone chair visit to Havant 4th February 2020
Zone meeting 10th February
Zone chair visit to Alton 13th February 2020
Zone D – Lion Dianne Hopkins
1. Decisions Required of Convention:
2. Justification for Decisions:
3. Objectives for the Year:
a) Involvement in the Regional based training programmes for potential club leaders and for new Lions.
b) Increasing membership numbers in Newbury and Basingstoke.
4. Progress Against Objectives:
a) Encourage as much attendance as possible from Zone clubs.
b) On going, 2 new possibilities are being worked on.

Zone 2E – PDG Lion Roger Munday
For our Zone the only change has been the District and Zone name/number. Our cooperative collection of Clubs remains the same: Aldershot (Branch of Fleet), Farnborough, Fleet, FLOGS (Branch of Fleet), Hart, Hook & Odiham, and last but not least Yateley.
I was a reluctant volunteer who stepped forward because no one else did. Fortunately someone else has come forward to serve next Lionistic year, Lion Ian Hambleton from Aldershot. While it is good to see a first-timer come forward hopefully in future years other Zone Clubs than Fleet or its Branches will come forward as they have in years past.
We continue with our four quarterly dinner meetings.
The Funfest Committee are well on with the planning for the annual day for people with physical and/or mental disabilities, Farnham Club have always been part of this project and we all feel that it's the highlight of service each year.
I finish on a sad note to report on the sad and sudden death of our Community Store Manager, Beverley Alderdice MBE MJF.
Zone F – Lion Don Evetts
To date Henley and Maidenhead Clubs have been visited, both in good order.
We have had two joint Zone meetings [with Zone G] and a third is arranged for the 19th March, hosted by Burnham Lions.
The first was mainly about CIO that Clubs are progressing with and the second mainly concentrated on recruitment.
Burnham Lions have had a busy program of events over the Christmas period and are looking forward to celebrating their 20th Charter in February.
Henley Lions involvement with a local garden centre over the Christmas period is always popular with a record 1,187 children visiting Santa's Grotto.
Maidenhead Lions Swimarathon took place on the 11th January and are expecting to raise a record £35,000.
Windsor Lions Horse Ride in Windsor Great Park during September was 'The Best Ever' with 650 riders covering the 9-mile course.
Windsor and Maidenhead Clubs came together [being parts of the same Royal Borough] collecting food and delivering over 400 Christmas Parcels to those less fortunate than ourselves in the area.
Across the Zone prostate awareness events are in progress along with Message in a Bottle.
Zone G – John Coleman
To date Woodley and Earley Club has been visited with next visit to Bracknell Forest booked for Monday 9th March. 
Woodley and Earley Club proved to be in vibrant form and were busy successfully appointing Club Officers and organising upcoming events including their fireworks event. They have 19 members with one new possibility in the pipeline.
Membership is a top priority for Woodley and Earley. Their Vice President Val visited Fleet Lions and prepared a report on their successful activities from which she hopes to 'crib' lots of good ideas –watch this space.
Reading Club is healthy and has recently signed up two new members. We are busy with Grand National racing, Dragon boat racing, Tribute night Prostate awareness day and our fireworks committee have started meeting already.
We have had two Dual Zone meetings (with Zone F) and a third is arranged for the 19th March, hosted by Burnham Lions.
Zone 4H – Lion Yorky Tuke
I apologise that because of ill health I have been unable to hold a Zone Meeting since August 2019.
Since that time Christchurch Lions Club has closed. Some members have transferred to other Lions Clubs. Bournemouth Lions Club has changed its name to Bournemouth and Christchurch Lions Club and expanded their area of service to include Christchurch. They intend to continue with some of the Welfare and fundraising activities that the Christchurch club were involved with.
The three remaining club in the Zone continue to serve their communities.
New Milton continues to be the strongest club in the Zone although Ringwood & Fordingbridge Club have some potential new members who are showing positive signs. Lymington & Brockenhurst Club continue to seek new members.
The next Zone Meeting is scheduled for Wednesday 11th March 2020.
Zone I – Lion Anne Lippitt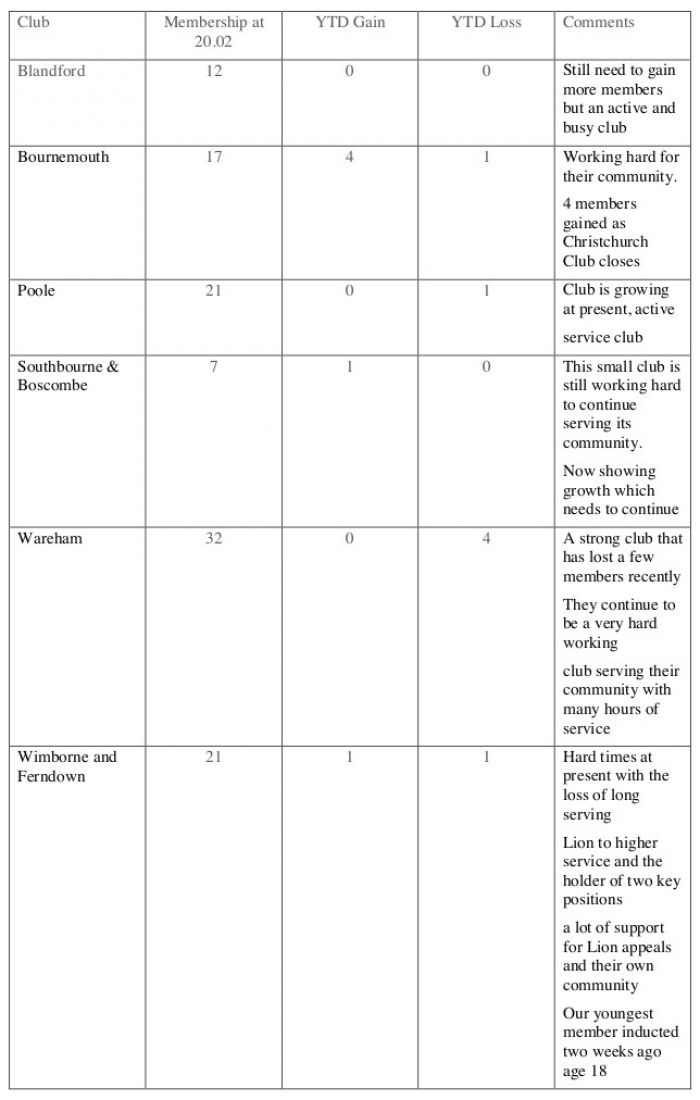 All clubs in Zone 4i are experiencing the ageing of its members with difficulty recruiting new members in the numbers we would like to see but they still all continue to be very active within their community service this is to be admired.
All the clubs show comradeship with their other Zone Clubs which is evident in the way they all work together for the Zone Project supporting each other when needed. Zone Project planned for 5th July 2020 at Ashley Heath Country Park
Four of the 6 clubs have now been visited.
Zone meeting planned with two visiting cabinet members as speakers on 11th March 2020.
Zone 5K – Lion Rob Armstrong-Collett
Progress against Objectives:
Membership within the Zone has remained steady since 1st July, with the membership of each club as follows on 18th February 2020: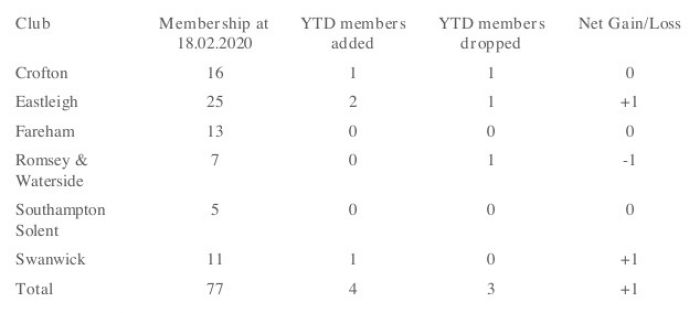 There have been some great successes in Zone 5K this year, with 2 of the clubs increasing their membership, which is a great achievement that should be celebrated and congratulated.
I have visited various Clubs in the Zone this year and I have witnessed clubs being very active in their communities and providing fantastic service and visibility of Lions generally. This service has included, amongst a very long list, supporting POD, a charity that provides entertainment to a Southampton Children's Hospital to help improve the lives of sick children and their parents and carers; support a school for those with Special Educational Needs and Physical Disabilities to provide Makaton equipment; assisting with a local charity that operates boat trips on Southampton Water/the Solent for the elderly and disabled; helping local Scout groups by sponsoring young people to go on camps and expeditions; senior citizens parties; sponsoring the kit for Gosport Ladies FC, with the Lions logo appearing on their shirt to provide support for the club and visibility for Lions; supporting a local swimming club; supporting local people need by providing items such as a cooker and mattress; helping to support local food banks through funding, donating food and helping to collect donations from collection points; marshalling at events run by other organisations that support the community; replacing a shed for Highbridge Community Farm after their previous shed was destroyed by lightening; organising major events in the local area such as Stubbington Fayre and support and promoting World Sight Day. This is in addition to organising Christmas sleighs, supporting the Lions Day Out to Paultons Park, Easter Egg raffles, Message in a Bottle and SpecTrek.
A Zone meeting is scheduled to be held where Citizens Advice are due to speak about the challenges that are experiencing with their funding and the impact this is having on their service provision and the way in which Citizens Advice can work with Lions to promote our project and initiatives and how Lions can help support Citizens Advice to continue their work.
Zone 5L – Lion Marsha Couture
1. Progress against Objectives:
A membership drive for the clubs on the Isle of Wight has been arranged for Saturday, May 30, 2020.
1.5 Other relevant matters: NTR